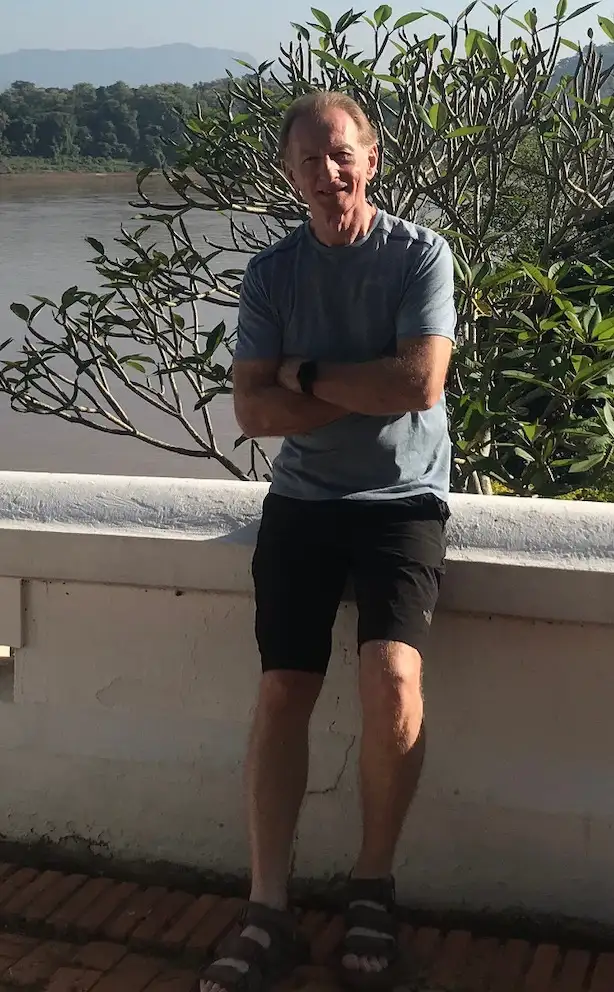 I was born in Southport, Lancashire (UK) in 1949 – a member of the post-war baby-boom. Leaving school at the age of 15 (with no qualifications and yearning to be in a pop group) I immediately went to work in my family's florist shop (I can still put together an attractive flower arrangement!). By the time I was 26, I was married, had a two-year old son (Gavin) and together with my wife, Rosemary, was managing Cavalier Steak Bars/Pubs for Tetley's brewery in Leeds, Yorkshire (The Jubilee, Headrow, and the Woodside Tavern, Horsforth). In my early 30s I got into running and athletics coaching, becoming a BAAB Senior Athletics Coach and studying part-time at Carnegie College of Physical Education (Leeds Polytechnic). My main athlete was my younger brother, Peter, who went on to 4th Place in the World Athletic Championships (Marathon) Gothenburg, 1995 and competed for the UK in the Atlanta Olympic Games, (Marathon) 1996. My experience of sports coaching was the trigger for my first big career move when at the age of 37, I left the world of pubs/restaurants and started out as a Lecturer in Sport and Leisure at Thomas Danby Further Education College, Leeds. 
My decade at Thomas Danby was one of the most important in my life: I studied for a PGCE (Huddersfield Poly), an MA, and finally, a PhD (both at Leeds Met. University) graduating from the latter with Distinction (no edits) in December 1996. During this frantic and often intense decade I also experienced several relationship changes and had three more children (Jay, Robert and Eleanor). This hectic personal journey continued through my 50s and into my early 60s eventually settling down with my wife, Mam, in Thailand.
I first came to Thailand in 2001, fell in love with the country and made my permanent move here (Chiang Mai) in 2008 at the age of 59. I have now travelled all over East and South East Asia. Although Bangkok has an amazing vibe and I find Taipei a most amenable city, Chiang Mai (where I live with Mam and my stepdaughter, Idea) has both my home and heart.
I have been a florist, guitarist/drummer, pub/restaurant manager, athletics coach, amateur (but competitive!) road runner, life/relationship coach, school teacher, FE lecturer, HE lecturer/professor, writer, educational management consultant, company director, and even, for a brief spell back in my mid-30s, a local politician. But don't worry, I'm not going to bore you with all the details of my many career changes and professional identity transformations, I'll just give you a potted summary since the age of 47.
After graduating from my PhD in December 1996, aged 47, I lectured part-time in various UK universities including Leeds University Business School, before being appointed full-time Lecturer in Education at Keele University, UK in September 1997. My doctoral thesis was titled
Public and Private Men: Masculinities in Further Education Management (still available in Leeds Met Univ. library, I am told). By the completion of this thesis I was a fully-fledged feminist; in academic terms, a feminist poststructuralist (with leanings towards feminist postmodernism). My PhD research provided the basis for many of my subsequent writings and publications, including my first major academic book: Men and Masculinities: key themes and new directions (Polity, 2002).
So, in essence, I was a sociologist, a specialist in the critical study of men and masculinities (still am). However, back in the late 90s there were no jobs available lecturing on men and masculinities, so when Keele offered me the job of Lecturer in Education, I jumped at it. By the time I took early retirement from Keele University in March 2009, I had been promoted to Senior Lecturer; had over two dozen academic journal articles/book chapters published; had seven books published (academic and mainstream, one of which received world-wide publicity and was translated into 15 languages); was Director of Keele's MBA Education programme and co-Director of Keele's EdD programme; and had acquired an international reputation as an expert on men and masculinities and gender identity.
Moving to Thailand didn't stop my career progression nor slow down my writing. My 14th, 15th and 16th books are all schedule to be published by Routledge during 2022.
My most significant professional events (excluding book publications) since March 2009 (e.g. 'retirement') were as follows:
2010: Keele University appointing me 'International Programme Coordinator' responsible for establishing and delivering a range of postgraduate programmes (PGCEi, MEd, MBA Ed, and EdD) for international school teachers/managers in Asia and the Middle East.
2013: establishing my own international school management consultancy and subsequently being appointed non-Executive Director for Sarjana Education Group (Brunei/Malaysia) while also delivering consultancy programmes across East and South East Asia.
2013: Shih Hsin University, Taipei, appointing me Visiting Professor in Gender Studies
2017: Becoming a Lead Contributor to Quora: Now answered nearly 10,500 questions, have over 830 followers, and 2.7 million content views with this total increasing at the rate of 70,000 a month.
2019: Co-founding and becoming Lead Writer for the Educational Digest International journal.
2020: Co-founding and becoming Director for Whitehead, Lee & Associates Co., Ltd, a consultancy proving business-education solutions for international and private schools.
2020: Establishing (with specialist colleagues) the Total Inclusivity workshops and training (anti-racism, LGBT+ awareness, and identity safeguarding) for international and private schools in Europe and Asia.
2021: Contracts signed with Routledge for three (co-authored) books on Total Inclusivity.
There is a lot I can say about life, living it, and surviving if not flourishing, but I won't. I'll keep it short. If you want to know more read my books, book me to do professional development/Total inclusivity Training at your school or organisation, or simply read some of my 10,500 Quora answers to questions ranging from sex, love and relationships, to career progression for retirees. Either that, or send me an email.
What I will say is that life is most definitely more than about work, material accumulation, contented relationships or a satisfying sex life. All these are important at different times in our life journey, but as a 70+ male I can tell you that none of these will trump loving oneself and being contented in one's identity.
As for identity, we are all work in progress. We are all constantly changing and in ways we cannot begin to understand or appreciate until well after the event. Who you are today is not who you will be tomorrow and certainly not who you will be in a decade's time. What you desire and yearn for today will disappear from your mind in time. Everything passes, including sexual desire, material desire, love desire, status desire. You will eventually reach your old age reduced to the core of you. Hopefully, that core will be good, kind, wholesome, healthy and empathetic. If not, then you will pass on carrying a lot of unpleasant baggage.
Try and avoid that if you can.
I think I have avoided all that negativity (recrimination, bitterness, disappointment, regret, guilt) but if so it is largely because of those I've had around me during my own life journey; friends, partners, family, children, work colleagues, mentors, teachers, students and soulmates. And also because of Buddhism. Well, not just Buddhism but a complex if unfathomable spiritual mix of Buddhism, Hinduism and Animism. If you want to learn more about how these apparently contradictory spiritual discourses intact, just visit most any temple (Wat) in northern Thailand.
For my own life, I now enjoy being teetotal, celibate and free from worry about money, status or tomorrow. The sex monkey thankfully disappeared off my shoulder a few years ago and he's not coming back. Corny as it may sound, I now get more pleasure watching a butterfly hovering on a flower, listening to a bird singing in the trees, or seeing the sun rising in the East.